Get Ready for a Fun-Filled Family-Oriented Weekend
UM Family Weekend with the Miami Marlins is April 27, 28, and 29

Pregame festivities, giveaways, and on-field activities ranging from check presentations to ceremonial first pitches are just some of the highlights in store for University of Miami employees and their family members and friends at UM Family Weekend with the Miami Marlins.
Taking place April 27-29 at 37,000-seat Marlins Park in Little Havana, UM Family Weekend with the Miami Marlins is the University's way of showing its appreciation for the dedication and outstanding work of its employees. Playing in new uniforms and new digs, the Marlins will take on the National League West Champion Arizona Diamondbacks on Friday and Saturday, April 27 and 28, at 7:10 p.m., and on Sunday, April 29 at 1:10 p.m.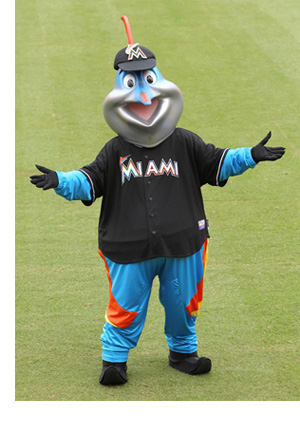 Before each game, employees and their family members can enjoy a variety of pregame festivities at the ballpark's West Plaza, including photo opportunities with current and former Marlins players, a dunk tank, bounce house and obstacle course, and appearances by Billy the Marlin and Sebastian the Ibis. La Pachanga will perform at West Plaza on Friday from 5 to 7 p.m., and the UM Band will perform on Saturday.
On Friday and Saturday pregame festivities at West Plaza begin at 5 p.m. and gates to Marlins Park open at 5 p.m. On Sunday pregame festivities start at 11 a.m., and gates open at 11 a.m. Please remember to bring your University of Miami ID and food vouchers, as this will give you access to all pregame activities at West Plaza. You will not be allowed to re-enter West Plaza for pregame festivities after entering the ballpark.
Inside Marlins Park, more fun awaits. On-field activities at each game will feature UM employees throwing out ceremonial first pitches. Eugene W. Anderson, dean of the School of Business Administration; Nerissa Morris, vice president for Human Resources; and Steve Cawley, vice president for Information Technology and chief information officer, will throw out first pitches on Friday, Saturday, and Sunday, respectively.
UM Family Weekend with the Miami Marlins will honor the University's Hurricane Champions—employees recognized for their outstanding service through a new peer recognition program. Tesla Barrientos, office manager in the Department of Marketing at the School of Business Administration; Martha Gonzalez, senior administrative assistant at Medical Finance; and Amel Saied, research associate in the Division of Marine Geology and Geophysics at the Rosenstiel School of Marine and Atmospheric Science, are among the more than 70 employees who have been recognized as Hurricane Champions. They won a raffle to throw out first pitches on Friday, Saturday, and Sunday, respectively.
The Miami Marlins Community Foundation will make three on-field check presentations benefiting UM. On Friday the UM Multiple Sclerosis Center of Excellence will be one of ten organizations receiving a generous donation. And on Saturday, the School of Education and Human Development will receive $7,500 for scholarship support, while the School of Communication will receive $5,000 for the Suzanne Rayson Scholarship Fund for students who are enrolled in the Broadcast Journalism Program and have shown an interest in sports broadcasting. Rayson, who served as the Marlins director of broadcasting from 2002 to 2008, died after a battle with cancer.
During UM Family Weekend with the Miami Marlins, employees will get a sneak preview of Your UHealth—a new initiative to bring faculty, staff, and their families the latest information about UHealth's physicians, facilities, services, innovations, and more. More information will follow.
For detailed information on directions to Marlins Park, pregame festivities, and a map of the ballpark that shows entrances and the location of pregame festivities at West Plaza, click here.
Marlins Park is located less than two miles from downtown Miami, only three-quarters of a mile from the westbound SR 836 exit at 12th Avenue, and 0.4 miles from the eastbound exit at 17th Avenue. Via Interstate 95, the site is 1.25 miles from the NW 8th Street exit. For directions to the park, click here. For parking information, click here.